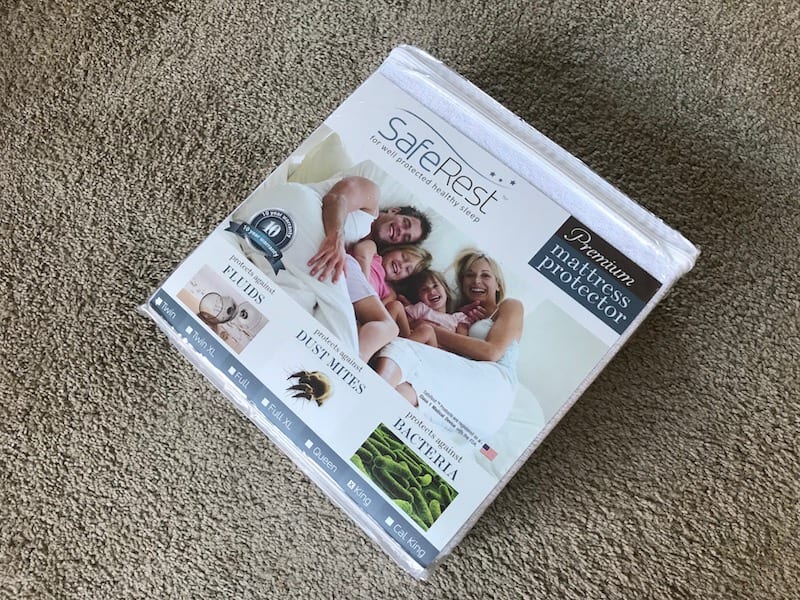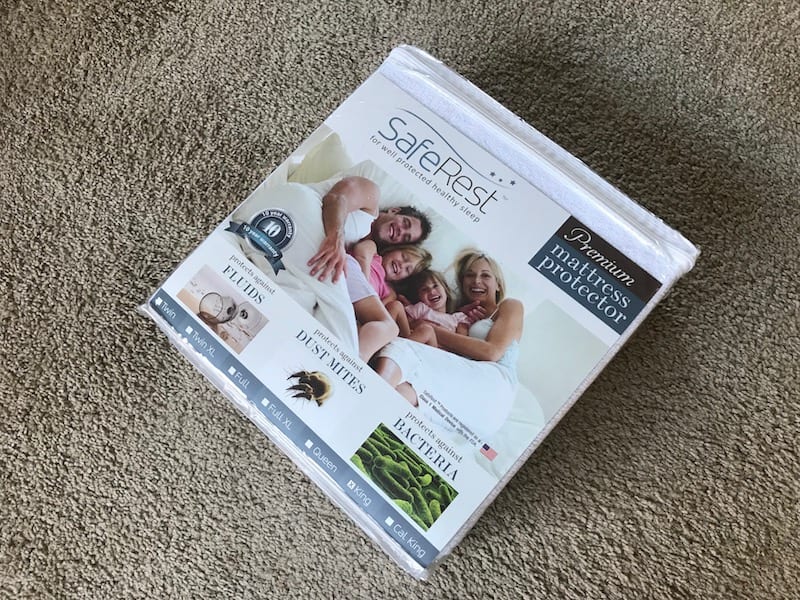 Having a good mattress protector is one of the most essentials things for your bed. Many warranties claims will not be covered if they detect any damage due to water or other liquids.
This is why it's important to get a waterproof mattress protector like the SafeRest Premium Hypoallergenic Waterproof Mattress Protector.
I didn't want this to be another boring review on the SafeRest protector. Instead, I want to answer some common questions, problems, and concerns I've seen people have with this mattress protector. This way you can have a better idea of this product before you buy it.
Does It Get Hot?
Some mattress protectors tend to keep warm when you sleep on them. This is due to them not being breathable. The reason for no air flow and not being breathable is due to the material its made out of.
Some mattress protectors are plastic or vinyl material that just does not allow air to flow which makes it super hot to sleep on. On top of that, it makes it noisy too.
The SafeRest is actually quite cool. The material stops water but still helps to keep you cool.
Check Out How Good This Thing Is
Here is a little video to show you how effective the SafeRest is at being a mattress protector…
Vomit and Pee
It's a mattress protector, so how well does it do against things like vomit and urine? It actually does quite well for how thin it is. Being thin and still being able to stop liquids and other nasty is quite important.
The only thing to really worry about is when you dry it. You want to use low heat on your dryer with other bedding items. Never use bleach in the wash. Using low heat can take it anywhere from 45 minutes to an hour to dry.
I've also noticed when you do wash it, it does not shrink. I always worry about fabrics that have some cotton feel to them when it comes to shrinking. After several washes, it's still holding the same size.
No need to worry about smells sticking around after accidents.
Cleaning
Since we're on the topic – cleaning this mattress protector is quite easy.
Low Heat
Avoid Bleach
Use OxiClean to remove stains
Use Borax to general cleaning or regular laundry detergent
Low heat on dryer (better to air dry)
What is the SafeRest Made of?
The sleep surface is made up of 80% cotton and a 20% polyester terry cloth. The lining material is made up of 100% polyurethane laminate. Also, the skirt is made of polyester exclusive of the elastic around it.
Will it Fit my Thick Mattress
A very common question with any mattress protector is whether it will fit a thicker foam/latex mattress. The way the SafeRest Mattress Protector is set up is that fits very much like a fitted sheet.
Plenty of give that fits nice and tight under the mattress. I've used it on a 12-inch memory foam mattress without any trouble. If the mattress is 16 inches or more than I would not use it. It's very rare to ever find a mattress that is beyond 16 inches anyways.
The packaging size is about 12″ x 12″ x 4″ if you need to know how big it will be when shipped to your door.
Will it fit an adjustable bed? Yes, but it's not really made for adjustable beds. Many people have been known to use it, but I have never tried it on an adjustable bed.


BBedbugs
I would not use this protector to fight against bed bugs. It does protect against dust mites, allergens and bacteria.
If you need something to protect you from bed bugs then you will need a sheet that has complete zipper protection.
Noisy
Unlike other mattress covers the SafeRest is actually very quiet. I'm sure you're like me and can't sleep on a cover that is too loud. This protector is soft and feels like cotton.
Does NOT feel like you're sleeping on crinkly plastic.
Along with noise, the smell can be seen as an issue with mattress protectors. We found that you won't see much of a chemical smell with this cover. This is due to how its made and the material its made of. Not really a smell to it.
Bed Sheet
It's wise to use a bed sheet over the mattress protector, even for the SafeRest. The mattress protector is not meant to replace your bed sheet even though it feels like one.
The job of the mattress protector is to keep liquids from touching the actual mattress. The bed sheet is to there to collect the natural body fluids and bits that are left behind.
If you must you could use this as a bed sheet, but it would be better to have a fitted bed sheet to cover this mattress protector.
There is two sides to this product, so make sure the soft side goes up. The soft side would be the side you would sleep on if you don't get a fitted bed sheet over it. Since it fits like a bed sheet you don't need to remove the mattress to wrestle it on. It slips on like a fitted bed sheet.
I would also recommend to wash it before you use it. Due to shipping and warehouses, you never know what it's touched. So its better to be on the safe side of things. Not saying anything bad happen, but its nice to have a clean sheet and protector on at the same time.
If you're worried about thread count then it would be best to use a bed sheet over this protector. We can't find any mention of thread count.
Pets
If you have pets then this mattress protector is quite a good investment. Sometimes the dog will sneak in to the bed when you're not looking and they just so happen to be a little dirty from the dirt.
Over time that dirt does find its way to the mattress, but with a protector like the SafeRest it won't be an issue.
Also, I have dogs that do drool a bit and this protector is really nice to have.
Pet dander also has a hard time getting passed it too.
Camping
If you need a bed sheet for camping or just regular use on the air mattress then I would suggest the SafeRest mattress protector. For the kids, company, or camping this is a good option to have for an air mattress.
It will fit many different size air mattress so long as you get the right size air mattress to the right size protector.
Reviews
If you would like to learn more about the SafeRest mattress protector then you can check out the reviews for it here.