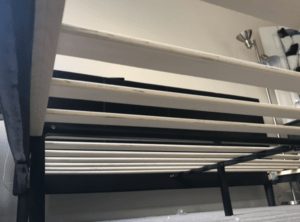 If you're wondering how to keep your mattress from sliding on top of your box spring or platform bed then I have some tips and tricks for you.
If you're constantly adjusting your mattress because it keeps moving, then all you need are Non-Slip Mattress Pad.
(did you know yoga mats work too? read more below)
It is that simple and easy, and yes, these are the same pads you can find for carpets and rugs to secure them from sliding. Let's go into more detail why you should use these grip pads to prevent your mattress from sliding (or end up on the floor due to frustration).
Rubber Non-Slip Pads
The reason why your mattress slides all over the place is due to the lack of friction. You would think mattress manufacturers would realize this and design the box spring or platform more grippy.
Even if you have a memory foam mattress, spring mattress, latex mattress, or even an air mattress a rubber non-slip pad can help to stop the mattress sliding off the frame.
These mattress slip pads work great if your mattress keeps sliding off the bed frame even if its metal too! Works on many sizes of mattresses and box springs!
Another method that seems to work well is to buy a Mattress Encasement which fully covers your Mattress. No matter what you should really have a mattress protector or in encasement on your mattress to save and protect it from spills and other nasty stuff. The reason why the mattress encasement works is that it fully covers the entire mattress and adds an extra layer of friction to keep the mattress from sliding.
Another reason why the Mattress Encasement works well is that it's a new and clean surface. What I mean by this is that your mattress, especially the ones you flip will hold body oils which makes sliding so much easier. This brings me to my next point.
Check out Gorilla Grip Original Slip Resistant Mattress Gripper Pad.
Keep The Whole Bed From Sliding
If you're looking for a way to keep your whole bed from sliding on the floor because you have tile or hardwood floors, then you'll need Furniture Stopper. They will keep the legs of the bed from sliding around on such slippery floors.
Even if you locked the wheels of your bed frame they still slide on tile and hardwood. Those furniture stoppers keep the entire bed frame from sliding as the rubber of the stoppers give it grip.
Cheaper Option
If you want one of the cheapest options to prevent your mattress from sliding and to give it grip use Shelf Liners. You can find these many places, many are used as liners for tool boxes so it might help to look at the hardware store. The problem with these shelf liners is that they're small and don't cover as much surface area as the rubber non-slip pads but they can work if you're in a pinch.
Stop Memory Foam Mattress Topper From Sliding
If you have a memory foam mattress topper that keeps sliding off the top of your mattress you can also use the non-slip pads too. Just place the pad under the mattress topper and on top of the mattress to keep it from sliding.
You can also try tighter fitting sheets too. I recommend bed sheet suspenders to help keep the sheets on.
Your Mattress is Old and Nasty
If you have noticed your mattress seems to be sliding around a lot more than it used to then it's a good clue that it's old and nasty. Over the years body oils and other nasty stuff has created a layer that makes sliding around a lot easier.
You see this more in mattresses you flip, but even the ones you don't still can get dirty from regular use. This is why having a mattress protector or mattress encasement like we mentioned above is so important. These protectors keep body fluids and other nasty stuff away from your mattress which helps it last longer.
So what should you do? You can clean the mattress, but if your mattress is over 5 years old, then it might be time to consider a new one.
Yes, I know what you're thinking – Mattress shopping sucks, and they're expensive! Well, this is because you been buying the wrong mattresses in the wrong places. I find that buying mattresses online to be a better experience and they're usually cheaper. You don't have to deal with annoying salespeople, and online retailers don't have the overhead like storefront retailers do so they can sell the mattresses cheaper.
But what about testing the mattress? To be honest, in all reviews and testing I do I find that most people don't like any mattress they get…. until it breaks in. Just like shoes you need to break in the mattress. People forget this because they have had their old mattress for too long and they forget these things.
What should you buy?  When purchasing a mattress online its best to look at the reviews and also see what people are saying about the mattress before buying it.
There is plenty of mattresses to choose from, and most of them are Memory Foam. If you never slept on memory foam before, it might take a week to get used to but once you do you'll never go back. The perk of memory foam is that it's heavy and dense, so it's less likely to move around on you. I like to use a platform bed frame that has wooden slats to keep the mattress from moving as much.
Other Options? Yoga Mat?
There is another option and works for your mattresses and even Futons too. You can buy a Yoga Mat. Yoga Mats are very grippy and can make a mattress stay in place. Kind of an excellent idea as many people might already have a Yoga Mat.
Avoid
A few things to avoid. One is double-sided tape. Double-sided tape strips can ruin your mattress and box spring from the removing of it. The sticky part never really comes off well and just makes a mess over time. I would just avoid anything that is sticky when it comes to mattresses.
Avoid modifying the mattress. I've seen people get screws and wood out and make changes to their bed frame and mattress. Not only does this void the warranty but you increase the chances of you getting hurt from a screw or wood.